flibco.com
flibco.com supports Erasmus students to travel the world and live new adventures!
flibco.com is the European specialist for transport solutions to and from airports. Using real-time flight schedules, we make sure to pick you up exactly when needed. By using flibco.com you can help in reducing the amount of vehicles on the road. Traveling together will help to minimize the impact on the environment. Fair-priced, Flibco.com gives you time to do exactly what you wish, listen to music, sleep, or work. Enjoy a comfortable journey with plentiful legroom and space for any type of luggage.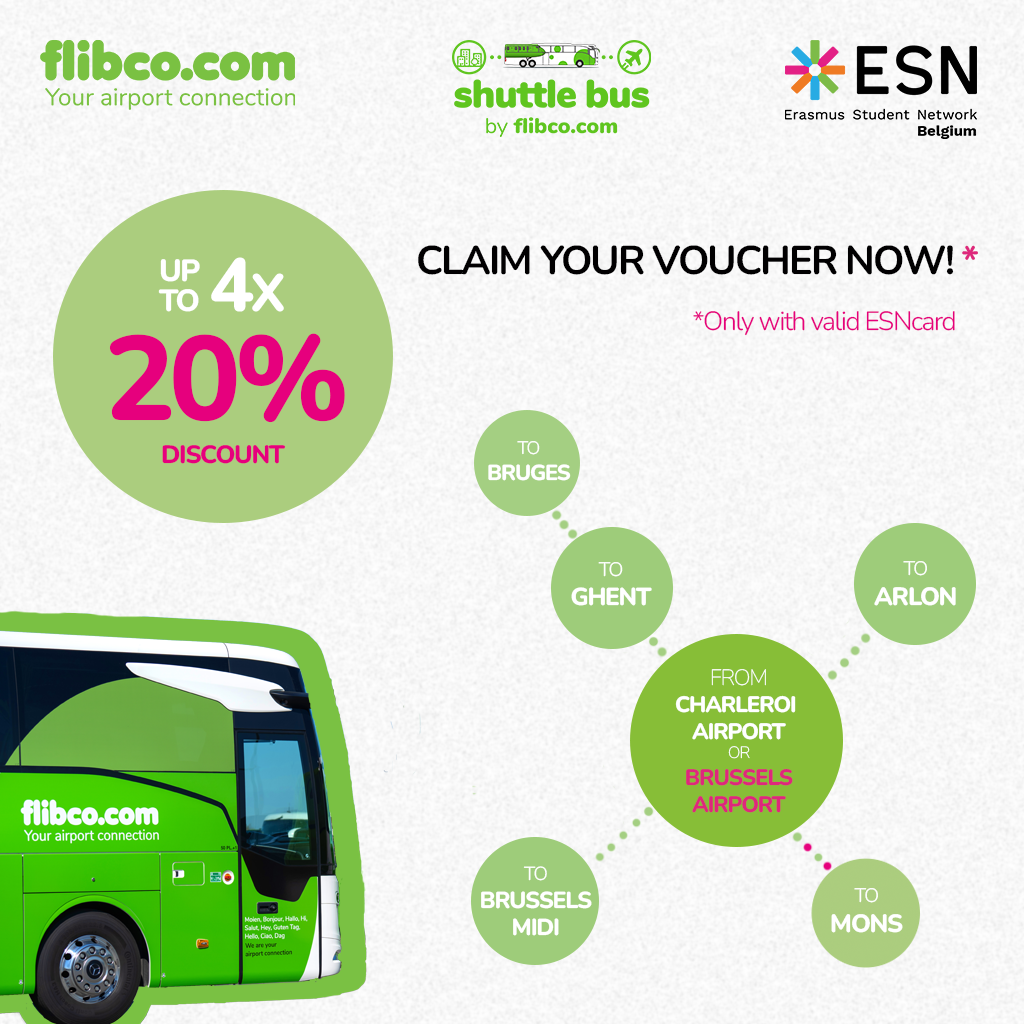 Do you want to start your adventure right now? Discover the best way to get to the main European airports on our website or on our mobile app. Flibco.com provides you a personalized transportation service at a low price.
How does it work?
Log in with your ESNcard account.

Get your  promo code.

Look up for your shuttle bus on our

website

or on our mobile app.

Put your promo code at the end of the booking process and get 20% off. One voucher can be used four times!

Start your adventure!
Terms & Conditions
Every ESN member can benefit from 1 promo code.

Each promo code can be used FOUR times.

The promo codes are applicable just for flibco.com shuttle bus services.

The promo codes expire on 31.01.2024.

The promo codes cannot be combined with other promo codes.

Subsequent crediting of a promo code to an already made booking is not possible.

Vouchers are valid for the lines Bruges-Gent- Charleroi Airport, Mons-Charleroi Airport, Mons-Brussels Airport, Brussels Midi-Charleroi Airport, Arlon-Charleroi Airport and vice-versa
Travel safe!
Because flibco.com cares about the health and safety of its passengers and staff, safety measures have been established to ensure hygiene and safety during your journey. Check them out here.